The Indian sports scene is no stranger to the roar of the crowd, the sweat of the players, and the thrill of competition. Among the numerous sports that draw in fans and participants alike, one that stands out is Pro Kabaddi. But what is Pro Kabaddi League, you may ask?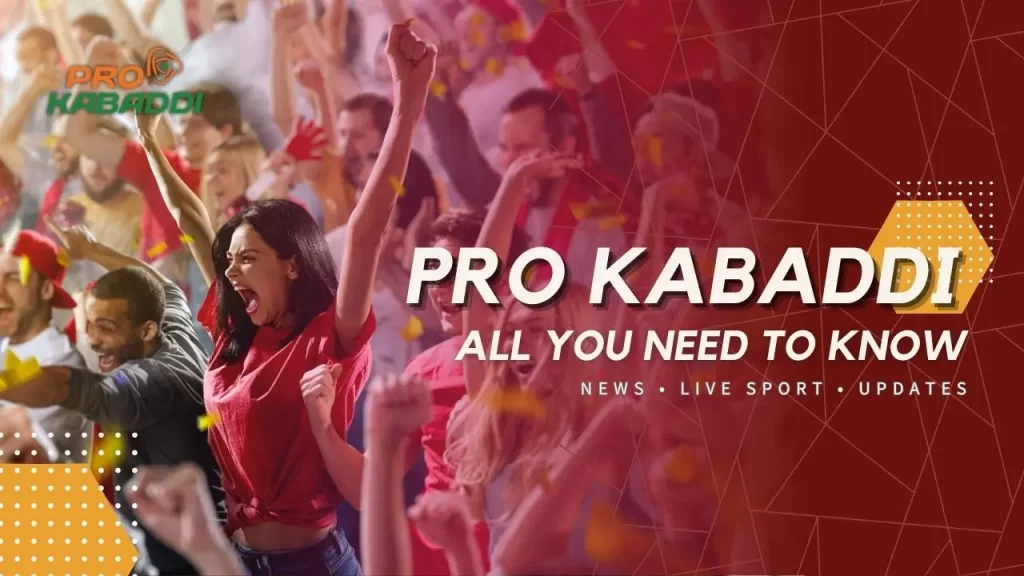 Stay with us to know more about Kabaddi Pro League, Where to watch Pro Kabaddi? And How to watch Pro Kabaddi live free?
Don't Miss – Kabaddi Empowering Village Women in India!
What is Pro Kabaddi League?
The Vivo Pro Kabaddi, commonly referred to as Pro Kabaddi, is more than just a professional-level Kabaddi league in India; it's a cultural phenomenon. Born out of a desire to rekindle interest in a traditional sport and transform it into a thrilling spectacle, Pro Kabaddi has captured the hearts of millions. It has grown exponentially since its inception, captivating a vast audience with its unique blend of traditional sport and modern presentation.
Its format intertwines the rustic charm of Kabaddi with an ultra-modern twist, creating a unique and enthralling sports experience. Furthermore, its burgeoning profitability and audience base have ensured its strong foothold in the Indian sports industry. Hence, it's not just a game but a celebration of India's rich sporting heritage, pushing the boundaries of traditional sports in an unprecedented way.
Is Pro Kabaddi Profitable?
The question "Is Pro Kabaddi profitable?" may arise amongst those interested in the economics of the sport. The answer is a resounding yes. The Vivo Pro Kabaddi League has consistently proven to be a lucrative venture. Not only does it garner an impressive viewership on Star Sports, which brings in substantial advertising revenues, but it has also attracted notable sponsors, further boosting its profitability.
Furthermore, the franchises themselves have begun to see profitable returns due to the increased fan base, sale of merchandise, and strategic partnerships. This blend of commercial success and popular appeal is what sets Pro Kabaddi apart from other sports leagues in India.
Are You Familiar With Kabaddi Skills?
An Insight Into Pro Kabaddi 2023
Now, let's dive into the upcoming Pro Kabaddi 2023 season.
The Pro Kabaddi 2023 is expected to begin in November, following the tradition of the past few seasons.
The Pro Kabaddi 2023 Auction will begin on 8th September.
12 teams will be battling for the prestigious title.
Teams will be playing on a round-robin basis, with the top 6 advancing to the playoffs.
The league is expected to run for three months, packed with adrenaline-pumping Kabaddi action.
Get Your Pro Kabaddi T-Shirt 2023 Now!
Where to Watch Pro Kabaddi
To fully enjoy the thrill and excitement of this dynamic sport, one needs to know how to watch Pro Kabaddi live free?. In India, all the matches are broadcast live on Star Sports and can be streamed on the Hotstar application. This allows fans to catch all the Pro Kabaddi action from the comfort of their homes or on-the-go.
Best 5 Apps to Watch Pro Kabaddi for Free
For international fans, worry not. The Vivo Pro Kabaddi has tied up with various international sports broadcasters to ensure you don't miss any of the thrilling encounters. To make it even more viewer-friendly, the league schedule is often planned during prime-time, increasing its accessibility for the fans. Hence, no matter where you are, Pro Kabaddi ensures you remain a part of the action.
Must Read: Top 5 Free Live Streaming Apps For Watching PKL 2023
Kabaddi Pro League – The Game Dynamics
The Kabaddi Pro League follows the standard style of Kabaddi. It involves two teams of seven players each, occupying opposite halves of a field. Players from each team take turns to tag opponents in their half while chanting "Kabaddi, Kabaddi" and return to their half.
Here is a brief table summarizing the key statistics of the last season:
| | |
| --- | --- |
| Statistic | Details |
| Teams Participating | 12 |
| Total Matches Played | 900+ |
| Most Successful Team | Patna Pirates |
| Inaugural Season Played | 2019 |
| Upcoming Season | 10th |
| Total Seasons Played | 9 |
| Top Raider | Pardeep Narwal |
| Highest Average Raid Points | Dabang Delhi KC |
Pro Kabaddi
Top 10 Kabaddi Academies in the World!
Final Words
The Vivo Pro Kabaddi League is an Indian sports spectacle that has captivated the nation and the world. Whether you're a long-time fan or a newcomer, the Vivo Pro Kabaddi League offers something for everyone. So, gear up and get ready for an exhilarating season of Pro Kabaddi in 2023!
How to Watch Pro Kabaddi Live Free?
FAQs About Pro Kabaddi League
What is Pro Kabaddi League?
Pro Kabaddi is a professional Kabaddi league in India that has revolutionized the traditional sport with a modern touch.
Is Pro Kabaddi profitable?
Yes, Pro Kabaddi is profitable. Its success has seen a surge in sponsorship and advertising revenues, making it a lucrative venture for franchise owners.
How to watch Pro Kabaddi live free?
You can watch Pro Kabaddi live free on the web and mobile apps of free live streaming in India and worldwide.
When is Pro Kabaddi 2023 scheduled?
The Pro Kabaddi 2023 season is expected to start in November.
Where to watch Pro Kabaddi?
Pro Kabaddi can be watched live on Star Sports and streamed on Hotstar in India. Internationally, it's broadcasted on various sports channels.