Kabaddi, a sport deeply entrenched in Indian culture, is now playing an extraordinary role in empowering a new generation of young women in India's rural heartland. Historically seen as a traditional Indian village sport, Kabaddi has emerged as an unlikely ticket to empowerment and liberation for countless village girls in India. In this article, we will explore how this age-old sport is revolutionizing the lives of young girls in rural India.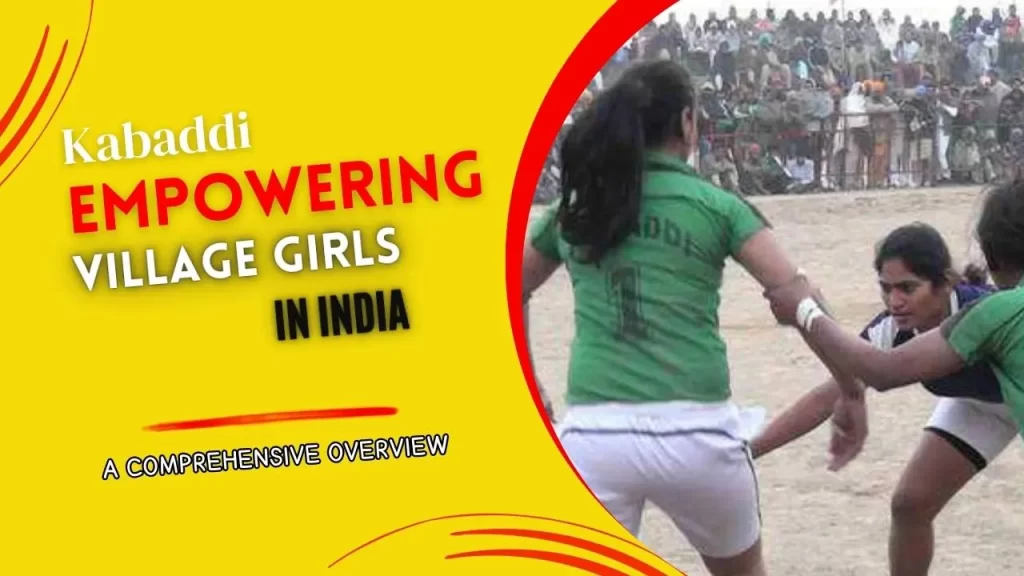 A Traditional Indian Village Sport
Kabaddi is more than a mere game in India—it is a cultural phenomenon that dates back thousands of years. Traditionally, it was a way for villagers to develop physical endurance and agility, with two teams taking turns to send a "raider" into the opposing team's half, aiming to tag members of the opposing team and returning to their own half.
In the tight-knit communities of Indian villages, Kabaddi serves as a social glue. It gathers people together, strengthens communal ties, and fosters a spirit of healthy competition and unity. For the women who play, it also represents a break from their regular roles and a chance to be recognized for something that defies the traditional expectations placed on them.
A Rural Game
In a country where gender equality is still an uphill battle, Kabaddi is becoming a pathway for young village girls in India to break free from traditional societal constraints and realize their potential. Kabaddi offers these girls a sense of purpose, confidence, physical fitness, and a potential escape from poverty through sports scholarships and professional opportunities.
For example, in the villages of Haryana and Tamil Nadu, all-girl Kabaddi teams have been formed, offering a counter-narrative to the typically male-dominated sports scene in India. These teams provide girls with not only a chance to compete but also an opportunity for education and future employment.
Village Kabaddi
In the heart of India's rural communities, Kabaddi is more than a sport; it is a cherished tradition that connects generations. Village Kabaddi maintains the essence of the game in its most authentic form. These matches, often held on dusty grounds surrounded by enthusiastic spectators, become a source of community pride and celebration.
For young girls participating, this is not only an opportunity to showcase their talent but also a stage where they challenge societal norms, asserting their strength and independence in front of their entire community.
Challenges Faced by Female Kabaddi Players
While Kabaddi is providing a path towards empowerment for village girls in India, the journey is fraught with obstacles. These young women often confront societal pressure, which dictates what a 'proper woman' should do, and they frequently face resistance from their own families. Lack of proper training facilities, coaches, and the constant juggle between education and sport further intensify the challenges they must navigate.
In addition to societal pressures and logistical hurdles, female Kabaddi players in remote villages face a deeply disturbing issue: sexual harassment. Whether during training sessions or the selection process for city, state, or national women's Kabaddi teams, these young athletes are sometimes subjected to inappropriate behavior and exploitation.
This grim reality adds a distressing layer of challenge to their pursuit of the sport they love. The governing bodies of Kabaddi, at all levels, have a pressing responsibility to address this issue. Strict, enforceable policies against such crimes in the sport industry are essential.
Alongside punitive measures, these organizations must also invest in education and awareness programs. These initiatives should aim to foster a culture of respect and safety within the sport, ensuring that the Indian female kabaddi players can chase their dreams without fear.
Kabaddi: The Pride of Punjab
In Punjab, Kabaddi is not just a game; it's a part of the region's soul and heritage. Known as the bedrock of Indian Kabaddi, Punjab has turned the sport into a symbol of cultural pride. Here, Kabaddi tournaments are grand spectacles, drawing in massive crowds and substantial investments.
For the young village girls of Punjab, this sport is a ticket to a life they wouldn't have dared to dream of, offering them scholarships, government jobs under sports quotas, and even international recognition.
Top 5 Women Kabaddi Academies in India!
Punjab's Role in Popularizing Kabaddi and its Support for Women Players
Punjab stands as a pioneer in elevating Kabaddi beyond a village pastime to a sport of national and international repute. The state government actively invests in training facilities and organizes high-profile tournaments that attract global audiences. For women players, Punjab is often a beacon of opportunity.
The state has championed the cause of female athletes by providing them with dedicated coaching, scholarships, and job opportunities under sports quotas. This consistent support has enabled many women from Punjab to represent India in international Kabaddi events, solidifying the state's key role in both popularizing the sport and empowering its women players.
Find Out Pro Kabaddi Controversies!
Success Stories: Prominent Female Kabaddi Players from Punjab
In the heart of India's most vibrant Kabaddi scene, numerous women have risen above societal constraints and written their own success stories. These women, hailing from Punjab, are not only national champions but also international ambassadors of the sport.
They are role models for countless young girls, exemplifying that with talent, grit, and determination, it is possible to break free from the traditional norms and attain unprecedented success.
Ritu Negi: A national champion and a familiar face in international Kabaddi, Ritu's journey from a small village in Punjab to captaining the Indian Women's Kabaddi team is nothing short of inspiring.
Harjeet Kaur: From playing in her village's muddy fields to shining on the international stage, Harjeet is a living testimony of Punjab's thriving Kabaddi culture. She has played a key role in India's victories in Asian Games.
Manjeet Kaur: Manjeet has defied all odds, including family resistance, to become one of the leading female Kabaddi players in India. Her story is one of resilience, as she fought her way from a small Punjabi village to the national team.
Kabaddi's Impact on Village Girls (in Numbers)
In recent years, Kabaddi has emerged as a potent tool for social change, especially for young girls in India's rural landscape. These numbers aren't just statistics; they represent a quiet but powerful revolution. Each figure underscores a story of resilience, empowerment, and change that Kabaddi is bringing into the lives of village girls across India.
| | |
| --- | --- |
| Statistics | Numbers |
| Girls enrolled in Kabaddi academies | 25,000 |
| Number of villages with female Kabaddi teams | 3,500 |
| Increase in school attendance among girls playing Kabaddi | 40% |
| Girls who received sports scholarships through Kabaddi | 8,000 |
| Village girls representing India in international Kabaddi tournaments | 200 |
| Number of Kabaddi coaching centers for girls in rural areas | 150 |
| Increase in female Kabaddi coaches in the past 5 years | 35% |
| Reduction in child marriages in communities with active female Kabaddi teams | 30% |
| Increase in women's participation in local governance in areas with strong Kabaddi culture | 20% |
The Impact of Kabaddi on Village Girls in India
Top Women Kabaddi Leagues and Tournaments in India
As Kabaddi's popularity surges across India, numerous leagues and tournaments have emerged to showcase female talent. These competitions, organized at city, state, and national levels, provide a platform for women to display their skills, gain recognition, and foster their careers in the sport.
| | |
| --- | --- |
| Name of Tournament/League | Location and Level of Tournament/League |
| Women's Kabaddi League | National League, India |
| Maharashtra Women Kabaddi League | State League, Maharashtra |
| Delhi Women's Kabaddi Championship | City Tournament, Delhi |
| South Indian Women's Kabaddi Tournament | Regional Tournament, South India |
| All India Women's Kabaddi Championship | National Tournament, India |
| Punjab State Women's Kabaddi League | State League, Punjab |
| Bengaluru City Women's Kabaddi Fest | City Tournament, Bengaluru |
| Senior National Women's Kabaddi Championship | National League, India |
Popular Women Kabaddi Tournaments and Leagues in India
Do You Know About PKL Teams Disqualification?
Key Takeaways
As we delve into the world of Kabaddi and its empowering impact on village girls in India, particularly in Punjab, it is clear that this traditional sport is much more than a game. It is a tool for social change, a path to education and employment, and a significant contributor to women's empowerment in rural India.
Below are some of the most impactful takeaways from the transformative journey of Kabaddi and the indomitable spirit of these young women:
Empowerment through Sport: Kabaddi is acting as a powerful medium for empowering village girls in India, fostering self-confidence, leadership, and independence.
Cultural Shift: As more girls take up Kabaddi, it is challenging and changing traditional gender roles and norms in rural communities.
Education and Employment Opportunities: Kabaddi is opening doors to scholarships and government jobs under sports quotas, offering tangible incentives for girls to continue their education.
Health and Fitness: Regular Kabaddi practice is contributing to the improved physical health and well-being of female players.
International Recognition: Kabaddi has become a stage for women to represent India on international platforms, showcasing their talent and raising the profile of the sport.
Support from Punjab: Punjab is leading the way with its proactive support for female Kabaddi players, setting an example for other states to follow.
Challenges Remain: Despite the progress, female Kabaddi players still face significant societal and logistical challenges, from family resistance to lack of adequate coaching facilities. Sexual harassment still remains a disturbing issue.
Urgent Need for Safe Environments: Female Kabaddi players face sexual harassment during training or selections. Governing bodies must urgently enact strict policies and educational measures to ensure female player safety.
Community Celebration: Kabaddi matches are not just games; they are community events that bring villages together and instill a sense of pride and unity.
Government and Private Support: Increased investment from both government and private sectors is necessary to sustain and further the growth of Kabaddi among women in rural areas.
Inspiring Future Generations: The success stories of female Kabaddi players from Punjab and other regions are inspiring a new generation of girls to dream big and break free from societal constraints.
In the journey towards women's empowerment through sports, Kabaddi stands out prominently, and the media has played a significant role in this narrative. Numerous local and international TV series, as well as films, have shed light on girls embracing Kabaddi.
A prime example is 'Dangal,' featuring Aamir Khan, a legendary Bollywood actor, which captivated audiences and spotlighted the potential of women in the sport. Notably, the recent launch of the Women's Kabaddi League in India marks a significant milestone in this empowering movement.
Additionally, prestigious competitions like the Pro Kabaddi League have played a substantial role in promoting this sport. How could we discuss Kabaddi without giving a nod to the Pro Kabaddi League? This standout competition is one of India's premier Kabaddi leagues, and it has captivated an international audience with its riveting matches.
As the Pro Kabaddi 2023 Schedule is officially released, Kabaddi enthusiasts around the world are marking their calendars to watch Pro Kabaddi Live. Prepare yourself for an electrifying experience; it's time to get set for PKL Live!
Frequently Asked Questions
What is Kabaddi and how is it played?
Kabaddi is a traditional Indian sport that involves two teams. Players from one team enter the opponent's court and attempt to tag as many players as possible, while chanting the word "Kabaddi" continuously and without taking a breath.
How is Kabaddi empowering girls in Indian villages?
Kabaddi is offering girls in Indian villages an opportunity for physical development, team-building, leadership training, self-confidence, and, importantly, a path towards education and employment through sports quotas.
What challenges do female Kabaddi players face?
Female players often confront societal pressures, family resistance, lack of proper training facilities, and limited access to experienced coaches.
Why is Kabaddi significant in Punjab?
Punjab is a stronghold for Kabaddi in India. The sport is deeply ingrained in the culture, and the state government actively supports and promotes it, especially for women.
How can one support female Kabaddi players in India?
Support can come in various forms, including financial sponsorships, creating awareness, setting up or contributing to training academies, and advocating for policies that encourage and support female athletes.
What opportunities can arise from pursuing Kabaddi professionally?
Professional Kabaddi can lead to various opportunities such as scholarships, government jobs under sports quotas, national and international representation, and becoming a role model for aspiring athletes.
Are there organized leagues or tournaments for women's Kabaddi in India?
Yes, there are several organized leagues and tournaments at the state, national, and international levels that feature women's Kabaddi teams.
How has the perception of women playing Kabaddi changed over time?
While traditionally seen as a male-dominated sport, increased participation of women and their ensuing successes have begun to challenge and change this perception, leading to greater acceptance and support for female players.
How can Kabaddi contribute to the holistic development of a girl?
Kabaddi helps in physical fitness, mental toughness, team spirit, and leadership skills. It also offers a platform for social interaction and exposure to new opportunities, contributing to the all-around development of a girl.
What policies are in place to support female Kabaddi players in India?
Different states have various policies, but they often include sports scholarships, reservations in government jobs, and the establishment of training facilities specifically for female players.
In conclusion, Kabaddi is much more than just a traditional sport in India; it is a catalyst for social change and empowerment, particularly for village girls. Through this ancient game, countless young women have found strength, confidence, and a pathway towards a brighter, more equal future.
Find Kabaddi Information in Marathi!
However, the road is still fraught with challenges, from cultural resistance to safety concerns. As Kabaddi continues to grow in prestige and popularity, it is our collective responsibility to ensure this sport remains a source of empowerment for the female Kabaddi players of India, safeguarding their rights and nurturing their dreams.